We've got great news for pups, and the people who love them! Nuzzles & Co. offers a variety of training courses for every dog and puppy's needs. Check out the course descriptions below to find the course that's right for you and your dog and sign up today!
ADOPTION SPECIAL: Get a 20% discount on classes when you sign up at the time of adoption!
REFERRAL SPECIAL: Refer a friend and receive $15.00 off a class or private session.
Sign up for our Training Classes
Click here to sign up for our Training Classes or to be added to the wait list for a class! Course descriptions are below.
Nuzzle Puppy Preschool - $110 for 4 weeks
This is an introductory class for puppies ages 8 to 16 weeks. Each class is 45 minutes long and focuses on socialization, handling, and play with other puppies. Each class will also include information on puppy-related topics such as jumping, biting, crate training and potty training. The puppies in this class will learn how to walk on different surfaces, how to problem solve, and how to enjoy being handled in a stress-free way. They will also learn some basic behavior cues. This is a great place to start if you're looking for a relaxed and social environment for your puppy to begin learning what it means to be a good dog.
Nuzzle Puppy 1 - $150 for 5 weeks (includes orientation)
Nuzzle Puppy 1 is the perfect first class for puppies between the ages of 16 weeks and 1 year. The first 45 minutes are dedicated to teaching all of the basic behaviors, including stress-free handling to get your puppy used to visiting the vet. The last 15 minutes are dedicated to playtime and socialization with other puppies in the class. Participants are asked to attend the first class (orientation) without their puppy.
Nuzzle Puppy 2 - $125 for 4 weeks
For those who want to take their puppy obedience training to the next level. Basic behaviors are furthered with more distractions, longer/further stays, and longer heeling patterns. The first 45 minutes will be dedicated to basic behaviors, and the last 15 minutes will be for the puppies to play and socialize.  
Prerequisite: Nuzzle Puppy 1 or equivalent.
Nuzzle Adult 1 - $125 for 4 weeks
This course is for dogs over 1 year of age.  If you want to have a polite and well-mannered dog, this class will get you off on the right foot.  Your dog will learn all of the basic obedience behaviors, including sit, down, stay, leave it, and walking nicely on leash, among others.  We will also cover basic dog communication so that you will be able to recognize when your dog is stressed. This is a great class for rescued dogs who have had no obedience training.
Nuzzle Adult 2 - $125 for 4 weeks
If you had a blast with the Nuzzle Adult 1 class and want to take your dog to the next level, the Nuzzle Adult 2 class is where you want to be. In this course, you and your dog will continue working on basic and intermediate behaviors with added distractions, longer/further stays, and more difficult heeling patterns, as well as adding some fun tricks for your dog to learn.  
Prerequisite: Nuzzle Adult 1 or equivalent.
AKC Canine Good Citizen - $175 for 5 Weeks (Includes Testing Fee)
This course was established by the (AKC) American Kennel Club to promote responsible dog ownership and encourage the training of well-mannered dogs. Each dog/handler must attend 4 classes and will perform an evaluation during week 5. Dogs who pass the evaluation earn their Canine Good Citizen certificate. The evaluation consists of 10 objectives, all of which need to be completed in order to pass the evaluation. Test items include: accepting a friendly stranger, sitting politely for petting, allowing basic grooming, walking on a loose leash, walking through a crowd, sitting and lying down on command and staying in place, coming when called, reacting appropriately to another dog, reacting appropriately to distractions, and calmly enduring supervised separation from owner. Dogs do not have to be AKC registered and do not have to be a pure breed. Puppies who have had all of their vaccinations and boosters can also participate.  Many therapy dog organizations have adopted the CGC as the first part of the therapy dog evaluation, so if you are interested in training your dog to be a therapy dog, this is the perfect way to get started!
Therapy Dog Class - $150 for 5 Weeks
If you have a dog that you think would make a great therapy dog, this class will focus on all of the objectives that your dog will be required to perform for his/her therapy dog certification.  This class does NOT include your actual therapy dog evaluation. The evaluation has to be performed with the association that you choose to participate with but will focus on all of the things that your dog will be required to know.
Prerequisite: Nuzzle Puppy or Adult 1 or equivalent (your dog should already be familiar with the following basic behaviors: sit, down, stay (or wait), come when called, leave it, and loose leash walking).
Reactive Dog Class - $225 for 5 Weeks
If your dog barks or lunges at other dogs or people while on leash, this is the class for you. The focus of this class is to teach your dog to be calmer and more comfortable on leash and to focus on you, the handler, rather than reacting to another dog or person he encounters. For this class there will be weekly assignments; this class is only for the dedicated owner who is willing to really work on helping his dog to feel calmer in different situations.
Prerequisite:  For best results, your dog should already know how to sit, down, and walk on a loose leash.
Out-N-About - $125 for 4 Weeks
Test your dog's skills in a variety of situations.  Each week we will meet at a different location so that you will have plenty of opportunities to work on your dog's skills in varying environments and with unique distractions.  Think of it as having a fun-filled field trip with your dog each week! 
Note: Because we will be outdoors for this course, it is not offered in the Winter.
Private Sessions - Price Varies
If you have a dog with behavioral issues that require one-on-one sessions, private training is also available.  One-hour sessions are available in which we come to your home and work with you and your dog. Depending on your location, a travel fee may be charged.
About the Trainer - Traci Madson, CPDT-KA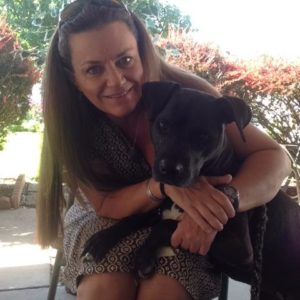 I began training dogs almost 20 years ago when I joined my town's local search and rescue group and became interested in training a search dog.
Following this, I was honored to be chosen by Best Friends Animal Sanctuary to adopt one of the dogs rescued from the Michael Vick dog fighting bust.
I started as an official positive reinforcement trainer at the beginning of 2013 and later started Three Little Pits Pawsitive Dog Training, named after my three adorable pit bulls. Along with a few private clients I began volunteering with two local rescue organizations, Friends of Animals and Paws For Life, and would work with dogs that had behavioral issues in order to get them to the point in which they could be adopted.
In January of 2014 I was deployed by the Humane Society of the United States to volunteer with the 367 dogs rescued from the second largest multi-state dog bust. There, I learned a lot about dog behavior and was able to observe how each dog was evaluated. That experience gave me even more motivation to want to help other dogs overcome fear-based behaviors so that they can remain in their homes rather than end up in the shelter.
Currently, I work with private clients who want basic obedience or some who have dogs with behavioral issues, and am the official Nuzzles & Co. dog trainer. I also have extensive experience working with Therapy Dogs and also training them through the process of certification.
I offer puppy classes where basic obedience and manners are taught, as well as how to have a positive experience while visiting the vet. While working full time at a busy vet clinic, I have seen first-hand the importance of ensuring that your pet has the most positive experience possible. Early socialization and play with other puppies is also emphasized in puppy classes.
In my spare time I enjoy hiking, snow shoeing, camping, reading, and spending time with friends and family. I also play several instruments and love getting together with friends for a good jam session!