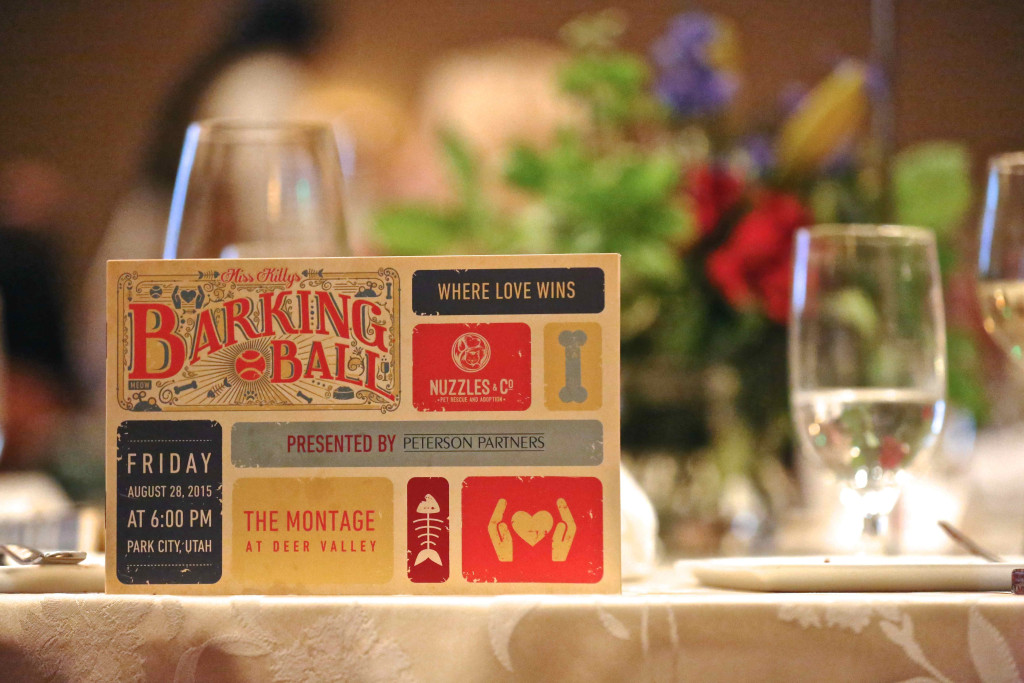 On August 28, 2015, Nuzzles and Co. hosted its annual Miss Kitty's Barking Ball gala at Montage Deer Valley, presented by Peterson Partners.
The evening was filled with love, laughter, and so many wonderful surprises. Not only were we there to celebrate 25 years of life-saving work, we were there to celebrate our new name, our passionate supporters, and the fact that this organization and all of its generous supporters over the years had saved more than 14,000 lives.
Old and new friends raised a glass to the animals, who have truly saved us humans and made this world a beautiful place. We also raised a glass to our wonderful donors, volunteers, and staff. This was truly the night to celebrate Nuzzles & Co., the place Where Love Wins.
Kim Fischer of ABC's Good4Utah, graciously joined us to emcee the evening's events, which included the debut of our new film, depicting the average day in the life of the pets in our care, from the time we take them from the shelter, to the moment we deliver them into the lives of their loving forever families.
During the event, Nuzzles & Co. announced the Wendy Lavitt Founders Award, in the name of Wendy Lavitt our Vice-President, who has tirelessly served the organization for 25 years, initially serving as one of our founders. With this award, recipients will be recognized annually for exemplifying true community service, and dedication to this organization.
The first recipient of this award was Alice Puleo – a long-time supporter, who has done so much to further the organization. She has acted as Advisor, Volunteer, Donor, and also as one of the largest, earliest supporters of our Cat Socialization program.
The second recipient of the award was Lori Feld representing Team MRM//McCann, the award-winning advertising and marketing firm, who was instrumental in architecting and executing Friends of Animals Utah's rebranding as Nuzzles & Co. Team MRM // McCann has spent thousands of hours understanding our mission and helping us bring our mission and our vision and our messaging to the forefront in our new branding.
Our Live Auction is where our supporters truly stepped forward to support every pet in our program—and the ones who will be rescued tomorrow. With over 200 donors to our Live and Silent Auction, we literally raised the roof!
We want to thank every single generous donor, volunteer, and supporter for making this event an enormous success. And, thank you to everyone who cares about making Utah No-Kill. We are so grateful for all who support our work to save more lives and to place hundreds of loving cats and dogs in their forever homes. We also want to thank everyone who participated in this event, by sponsoring, donating, volunteering, and supporting this important mission!
Please continue to support our incredible and generous sponsors, who made this possible, and continue to help us save lives every single day.
Our deepest thanks and appreciation goes to
Title Sponsor:
Peterson Partners
Presenting Sponsors: 
Zion's Bank
Toni & John Bloomberg
Wendy & Mel Lavitt
Sue & Fred Schulte
Alice & Frank Puleo
Carmen & Rick Rogers
Barbara & Tom Steinmetz
Lance Wise & Cheryl Rauzon of Blue Collar Bobbers
Wine Sponsor:
M SPACE
Video Sponsor: 
Berkshire Hathaway Home Services
Diamond Sponsors:
Advanced Veterinary Care
The Barking Cat
Best Friends Animal Society
BMW
David Dee Fine Arts
JABIL
MRM//McCANN
Utah's Hogle Zoo
Helen & Tom Cooper
Deb Kirby
Alice & Buffy Mayerstein
Kathleen & Justin Toth
Platinum and Gold Sponsors: 
Barbara & James Block
Cameron & Klekas Law Firm
Jane Howze
Stu Stanek and I Heart Media
Zibby & Jim Tozer
Supporting Sponsors:
1% Fitness Meals
15th Street Gallery
A Gallery
Adib's Rug Gallery
Adolph's Restaurant
Aerial Arts of Utah
Abigail Fein
Alan & Carol Larson
Allison Richards & Barry Hanover
Alta Ski Area
Ann & Rick Strong
Asia Raine
Baby Nee Nee
Joe & Marie Backer
Bahnhof Sport
Behr Electric
Bill & Lisa Mirams
Bill White Enterprises
Billy Demong
Bistro 412
Blind Dog Restaurant
Blue Sky Ranch
Blue Boar Inn
Robyn Hase of Bodyworks Pilates
Bob & Kim Rollo
Booster Juice
Brian Kershisnik
Cade & Company
Cafe Terigo
Cahoots
Carhartt
Carole & Jerry Sanders
Carole & Richard Eisner
Celecst Toigo Cecchini
Changing Hands
Charlene Brewster
Clark Executive Detail Inc.
Cognition Winery
Cole Sport
Color Me Mine – Park City
Crosby Collection
Deborah Lewis
Deer Valley Resort
Dennis O'Keefe
Design Shop Park City
Details
Diane Glover & Bill Whitesides
Dolan Geiman
Dolly's Bookstore on Main Street
Don Miller & Jim O'Neill
Don & Cha Cha Weller
Done to Your Taste Catering
Donna Delanty
Dr. David Thomas
Dylan & Jim Pignatelli
Elaina ReNae Photography & Design
Enterprise Rent-A-Car
Fairweather Natural Foods
Falling Waters Inc.
Flanagan's on Main
Foothill Oriental Rugs
Francis Collins
Furever Impressions – Stephanie Chavez
Galleria Floral and Design
Gallery Mar
Glenwild Golf Club & Spa and Pro Marty Bauer
Goldener Hirsch Inn & Restaurant
Golf Tec
Got Beauty
Grace Clothiers
Greg & Marilyn Brown
Greg & Rebecca McLaughlin
Grub Steak Restaurant
HandleHans C. Reinemer, DMD
Hayden Hull
Heidi Gatch
Hidden Valley Country Club & Pro Ryan Kartchner
High West Distillery & Saloon
Hilda Park City
Huge Brands, USA
Susan Monahan of Interiors in Park City
J.W. Allen & Sons Toys
Jack & Jamie Rubin
Jan & Jack Massimino
Jane Howze
Jane Troup
Jans Mountain Outfitters
Jean Glaser Animal Portraits
Jenny Hambleton
Jeremy Ranch Golf Club
Jerry VanVoorhis
Jim & Barbara Gaddis
Jim & Cindy Gastonguay
Joe & Marie Backer
Joli
Julie Morgan
Karen & Steve Roney
Ken Stenmark
Kenneth Bartholomew & LuAnne Sadler
Kim Page
Knead A Massage
Larkspur & Hawk Jewelry
Marisol Gomex of Lash My World
Liz Jonas Organic Jewelry
Lucia Hefferman
Lunatic Fringe
Lunchbox
Lund's Fine Art
Lynette A. Tucker of Ooh La La
Mad Hatter Chimney Sweep
Ash & Vanessa Chapman of Main Street Social
Margo & Ken Jacobs
Marie & Joe Backer
Mark Huber
Mary Jane's Boutique
Mary Larson
Massage & Bodywork Professionals
Meloney & Jeff Deutschendorf
Meyer Gallery
Michelle Sweet
More Than A Manicure
Mountain Express Magazine
Mountain Flora
Mountain Town Olive Oil
Natural Instincts
OC Tanner
Ooh La La Salon
Owner's Helper Inc.
Panache
Parallel Napa Valley
Park City Animal Clinic
Park City Dermatology
Park City Equine Center
Park City Homebuilder's Association
Park City Jewelers
Park City Live
Park City Mountain Resort / Vail Resorts
Park City Museum
Park City Nursery
Park City Peaks Hotel
Park City Pet Grooming
Park City Pet Resort
Park Meadows Country Club & Pro Bobby Trunzo
PC Recreation
Pearl Izumi
Pinnacle Performance
Poison Creek Furniture Design
Prewitt Gallery
Professional Home Builders Association
Promontory Ranch Club & Pro Mike Manning
RB Designs
Ralph & Dee Muller
Ramp Sports
Rebecca Supon
Ritual Chocolate
River's Edge at Deer Park
Road Island Diner
Robin & Steve Altschuler
Roger Miller Photography
Root'd
Rossignol Ski Company
Salt Lake Brewing Co.
San Francisco Design
San Miguel de Allende
Scott Sackett Golf
Sharon & Wayne Cantwell
Sharon Sams
Silver Cricket & Floral Atelier
Silver Mountain Sports Club
Silver Star Cafe
Skullcandy
Spectrum Salon
Storm Cycles
Sundance Institute
Sundance Mountain Resort
Susan Glasmann & Richard Dudley
Susan Kirby
Taft & Anne Symonds
Taramuhara Comida Mexicana
Terzian Gallery
Teton Pines
The Cabin
The Country Club and Pro Ron Branca
The DoDo Restaurant
The Dog Nannies
The Downstairs
The Eating Establishment
The Garden Store
The Jeremy Golf & Country Club
The Marc
The SG Performance Center
The SG Performance Center
The UPS Store – Kimball Junction
Thorn Creek Kennels
Traci O'Very Covey
Utah Airways
Utah Olympic Park
Utah Symphony
Victory Ranch
Vida Boutique
Waldorf Astoria Park City
Ward & Child
Wasatch Lighting
Wasatch / Squatters Brewery
Wesley & Sunny Howell
William & Kimberly Klintworth
William Kranstover
Willow Creek Country Club & Pro Eric Nielson
Woodbury Jewelers
World Bazaar Outlet
Zoom
Together, we have made Summit County no-kill–a place where love truly does win. And onward we'll go to make Utah a no-kill state, where every animal has the forever home they've waited for. Thank you.
A Few Photos of the Fun