History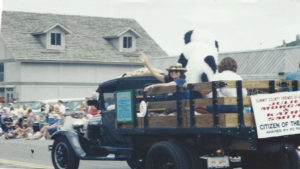 In 1990 when a group of animal lovers in Park City, Utah discovered that the county's only resource for unwanted pets was a shed holding eleven dogs (with no room for cats), they decided to lobby for a new shelter and form a rescue group that would foster and find homes for abandoned dogs and cats. Starting with only twelve people, the group quickly grew by raising money with bake sales, selling t-shirts, putting donation jars in stores on Main Street, and the start of what was to become their signature fundraiser, The Barking Ball.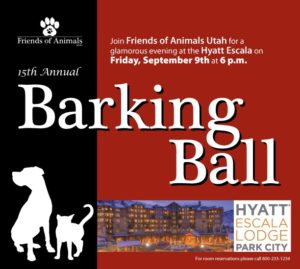 With media support from The Park Record and radio station KPCW, which showcased dogs and cats in the shelter and foster care, adoptions increased and membership in this new organization expanded. Deer Valley Ski Resort employees hailed Summit County Friends of Animals (FOA), now Nuzzles & Co., as it's favorite charity and many local businesses contributed to its burgeoning success.
FOA successfully lobbied Summit County to build an animal control shelter and in 1995, Summit County opened the county-run shelter in Wanship, Utah. FOA supported the shelter, finding loving forever homes for the cats and dogs housed at the county shelter.
In 1998, FOA was named the first, local non-profit Citizen of the Year by Park City Rotary. A year later, FOA joined the newly formed No More Homeless Pets in Utah Coalition. The Humane Society of Utah and Best Friends Animal Society also provided invaluable support and practical information on starting and operating a rescue organization.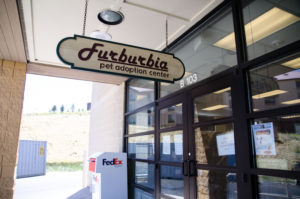 In 2003 Summit County Friends of Animals was presented with the opportunity to open "Furburbia," a retail pet center, in the outlet mall at Kimball Junction. Furburbia forever changed the nature of FOA by giving the organization a permanent face and place in the local community. It propelled the group into a full-time rescue organization with paid employees. Having a permanent facility also gave FOA a place to showcase its cats and dogs. Cats were able to be housed at Furburbia at night, but FOA still had to move dogs back and forth to kennels at night because dogs were not allowed to stay overnight due to zoning requirements.
By 2005 FOA moved the community closer to its goal – which was to make strides in preventing healthy, adoptable pets from being euthanized at both the Summit County and Heber shelters. By 2007, over 800 dogs and cats were adopted from Furburbia in that year alone. We were saving animals from Summit County and all over Utah. So, we changed our name from Summit County Friends of Animals to Friends of Animals Utah (FOAU). Additional programs were added for the first time, including dog obedience classes, youth camps, and a feral cat trap, neuter, and release program.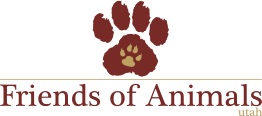 While all these changes were positive, it became evident that the facilitating foster homes and kennels for dogs each night were becoming a challenge; it was clear that a full-time facility was needed.
And then came the rescue ranch
In 2006 and 2007, FOAU acquired 100 acres of land in Brown's Canyon. By 2010, FOAU completed a 16,000 square foot multi-use building and named it the Rescue and Rehab Ranch. The Ranch had space to build out a state-of the-art medical suite and was built to house up to 85 dogs and 60 cats. The building also incorporated an education and outreach center, as well as a large relief area that could serve as 'ground zero' in the event FOAU was asked to care for a large number of animals in a disaster situation.

This new facility allowed a 28% increase in adoptions to nearly 1,000 animals a year. It also provided a place for our dogs that were not in foster homes to stay at night. The educational area also allowed for new therapy programs, as well as the popular Critter Care youth summer day camps. More than 600 cats each year enjoyed a sunny, healing environment with cat condos and pampered care from "Kitty Socializers" who prepared them for their forever homes. One of the most important additions was next installing a state-of-the-art surgical suite and quarantine area where spay-and-neuter procedures, vaccinations, micro-chipping, and even dental treatments are performed.
A Program for domestic violence survivors

In 2012, FOAU embarked on one of our most ambitious programs yet. Emily Scott Pottruck, a longtime donor, shared a story with us about a friend who was in an abusive relationship. She was unable to leave her abuser because of her concern for the safety of her pet, which she couldn't take with her. She called many shelters and none were willing to hold her pet and care for him while she sought refuge and new living arrangements. Emily asked us if FOAU would provide this much-needed resource for abuse survivors; specifically, a place where survivors could leave their pets while they sought safe refuge and permanent housing solutions. From this discussion, and Emily Scott Pottruck's initial generous funding, FOAU began operating the Purple Paw Program in 2012. Since its inception in 2012, the Purple Paw Program has housed and cared for more than 140 family pets and allowed abuse survivors to safely leave their abusers without fear of retaliation towards their pets.
a bright and shiny new future
In June 2015, FOAU responded to an RFP from MRM // McCANN Salt Lake City, part of an international marketing firm. FOAU was selected as MRM // McCann's one-year pro bono recipient. Over a period of 6 months, MRM // McCANN embarked on an ambitious rebranding effort for FOAU. Initially, they identified that there was brand confusion with the name "Furburbia" and the name Friends of Animals Utah. They wanted to see us truly exceed our goals of finding homes for every pet in the State of Utah (and after that – beyond!). The kind folks at MRM // McCANN knew that it was time to put a fresh face on the business of rescue – and they did just that. They provided everything from a new logo and style sheets, to award winning photography, billboards, media outreach, and an overhaul of our social media and website platforms. They gave us the recipe to reach so many more – people and pets.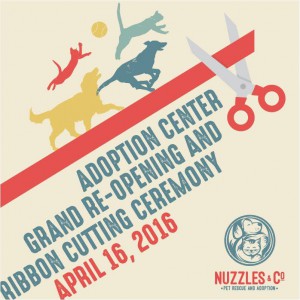 Then – we took the next step. In January of 2016, we embarked on an ambitious and greatly needed overhaul / remodel of our dated adoption center. We removed the bars from the cages, we replaced our dark and depressing dog enclosures, and we let in the light. Today, our sunny and beautiful adoption center is now bright, upscale, and full of joy. We even added a small café and an incredible Rescue Boutique – filled with beautiful retail items, the proceeds of which go directly to fund our rescue efforts and to save lives.
Following our rebrand as Nuzzles & Co., intakes, adoptions, donations, and support has spiked beyond our wildest expectations. We went from 834 adoptions annually in 2014, to 1,450 adoptions in the year ending 2016—a nearly 75% increase in cat and dog adoptions in just two years!

Furburbia Adoption Center – Before

Adoption Center – After Remodel
In 2016, Nuzzles began a beautiful new chapter with the Navajo Nation located in the four corners region. The Navajo Nation is a geographic area about the size of West Virginia, but there are few resources for animals. As a result, there are hundreds of thousands of homeless cats and dogs, many who die of starvation, dehydration, get hit by cars or killed by predators. There are only four animal control shelters on the reservation, each with no more than 5-6 kennels and only five animal control officers to handle this large population of homeless animals. We knew that we could help rescue these animals and find them homes. In April of 2015, we began a relationship with local rescuers and, since then, we have rescued and found homes for more than 1,200 once injured, homeless and abandoned animals. Learn more about our ambitious mission to make the Navajo Nation no-kill, just like we did in our community.
And as we embark on 2017, we are going to new areas and offering help to animals in desperate need. In January 2017, the Ute Reservation invited us to come onto the Reservation and set up the first-ever spay/neuter clinic. Initially, the clinic was going to be offered for only one day. However, the community responded positively to our presence and soon filled up an entire day of appointments. So, we made our one-day-clinic a three-day event and spayed/neutered and vaccinated over 150 cats and dogs who would otherwise not have any medical treatment. Through spay and neuter efforts, as well as rescue efforts, we are working side-by-side with members of the Ute tribe to help alleviate animal suffering, disease, overpopulation and death.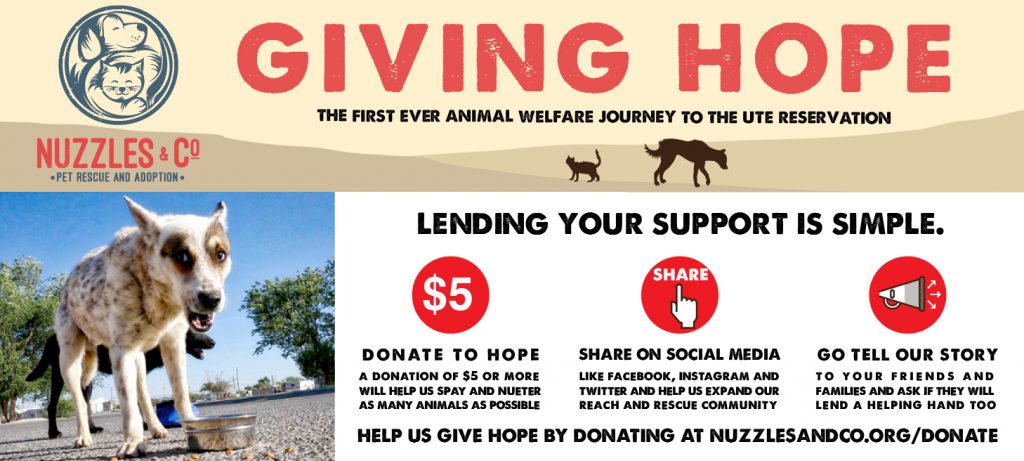 Awards and accolades
We are delighted to have received so many awards and accolades over the years, starting with that first honor from Park City Rotary, way back in 1998. Since then, the community has continued to recognize that what we do is deeply meaningful.
Today, we continue to be a regular recipient of awards from the Park City Record – Best Non-Profit and it's amazing readers (every year, since 2013!) , as well as Salt Lake City Weekly in 2015 and 2016.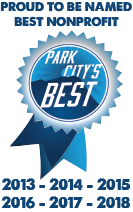 Read the letter from Utah's Governor Gary Herbert, recognizing our outstanding commitment to the pets in our community, and across the State of Utah.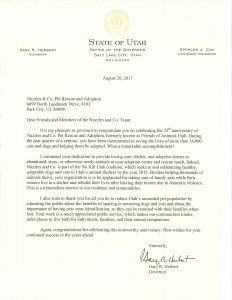 We are deeply grateful to the community for embracing Nuzzles & Co. for all of these years, as well as a dedicated staff of employees, and a committed volunteer organization (that contributes over 5,000 hours of service annually!), We have celebrated record-breaking adoption numbers, and journeys to new places where our help is needed, as we work to build a world where love wins. We know that there is more to do, more lives to save and we are grateful every day to the people, the community, the foundations and the partners who are helping us make our vision of a world where love wins come true.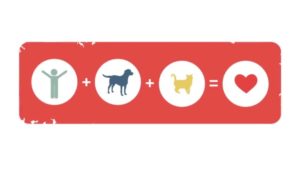 History