SUPPLY DONATIONS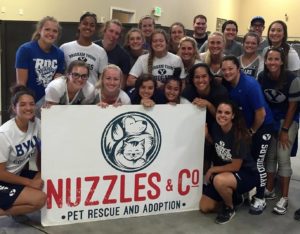 Nuzzles cares for about 2,000 animals every year in our 16,000 square-foot Rescue Ranch (which, itself, was built with donated supplies) and at our Adoption Center. We go through tens of thousands of pounds of dog and cat food, plus everything you might ever need to care for adult and baby animals, many of whom have had a very rough start in life and need a lot of TLC to pull through and get back on their feet.
Pet care supplies (and cleaning supplies and building maintenance supplies) are one of our very biggest expenses, and anytime wonderful people drop by with a load of donations, we're reminded of just how many guardian angels we have watching out for us and the animals.
Whether you're an individual who's willing to pick up a few extra bags of kitty litter next time you're at the store, or you're a work team, school, youth group, or church organization looking to do a good deed … look no further!
A supply drive or simple supply drop-off makes a major difference for us in furthering this mission to save the most vulnerable animals out there and turn the tide in our nation's shelters.
You can easily order what we need at the moment by using our Amazon Wish List, which sends items directly to our door. Or, just have a look at the following list of most-needed items!
Our Greatest Ongoing Needs:

Cat litter
Wet food for dogs, cats, puppies, and kittens
Bleach

Cleaning Supplies

Industrial mop buckets, handles, and heads

Brooms

Trash bags

Paper Towels
Bleach

Hand sanitizer

Pet Supplies

Treats for cats and dogs

Nylabones

Pet bedding, leashes and gently worn toys

New and gently used cat and dog beds

Puppy Pads

Litterboxes

Vehicles
Refrigerators, stoves, washing machines and dryers
Unused medical supplies and reusable medical equipment
Office furniture
Volunteers. Are you a member of a church group or charitable organization? At the Ranch we have thousands of hours of work service to offer. This includes everything from Community Cat Room makeovers, to landscaping, hammock building, and other projects for volunteers of all ages!
Own a business? We regularly receive in-kind donations from our local veterinarians, landscape and snow removal companies, electronic suppliers, construction companies, plumbers, and other independent contractors.
Donate a space. We are always looking for great venues to host events for our donors and supporters.
If you have items to give, feel free to simply drop them by the Adoption Center or the Ranch. For more information, contact info@nuzzlesandco.org
THANK YOU from the bottom of our hearts and the hearts of all the animals who don't have the voice to say it, but we see it when we look in their eyes and they know they're safe—perhaps for the first time. They'll be all right now, thanks to people like you.
Supply Donations